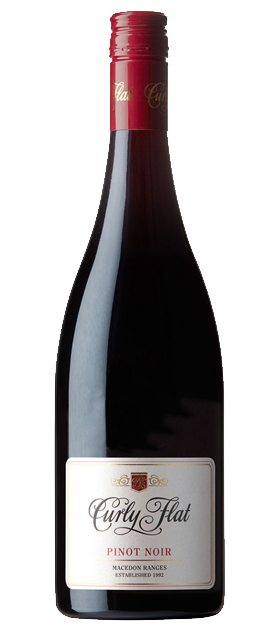 Curly Flat Pinot Noir 2020
Sold out
$62.10 in mix 6+
$69.00 per bottle
The Wine
95 Point Jane Faulkner - James Halliday's Wine Companion "There's an intensity and depth to Curly Flat's pinots of late and as with this, never going overboard. It's deep, complex and earthy with damp undergrowth alongside cherries, blood orange and Angostura bitters, plus savoury oak spice. Lots of tannin, but well placed across its more medium-bodied palate and with spritely acidity, it feels effortless to the end. Drink by 2030."

95 Points Campbell Mattinson - The Wine Front "This wine takes a long time to come around in the glass but then, as young wines, that's often the case with Macedon Pinot Noir. Bindi and Epis are noted slow-evolvers and I suspect that Curly Flat is headed more that way too.
The tannin structure of this wine and the overall reach through the finish is elite. It has ample flavour, in varietal terms, but structure is what this wine is all about. It mixes red cherry with satsuma plum, cedar wood with green-ish garden herbs, and while it has a bit of grunt it's not heavy; it trips along in its own certain way. Hold onto it; don't rush in; it's on its way to a lovely place. Drink 2024 - 2031+"

The Details
Variety - Pinot Noir
Country - Australia
Region - Victoria
Sub Region - Macedon Ranges
Extra - Screwcap
Year - 2020
Volume - 750ml
Curly Flat, located in Lancefield 60 minutes from Melbourne was established in 1989 by Jenifer Kolkka and Phillip Moraghan. From the outset, they had a clear focus on vinifying world-class cool-climate Pinot Noir & Chardonnay. With a total 33 acres of hand tended vines, they and the Curly Flat team were committed to creating world-class wines that are an expression of both site and variety. Jenifer and Phillip were determined to build quality in every aspect of their operation, and they poured every resource into their 'baby', Curly Flat without compromise in the pursuit of excellence in wine quality with little or no regard to short-term or even medium-term return on investment. As of late October 2017, Curly Flat is now owned and operated by Jenifer Kolkka along with Matt Harrop (ex Shadowfax) joining the team as Chief Winemaker to oversee the grape and wine production alongside our existing skilled team.