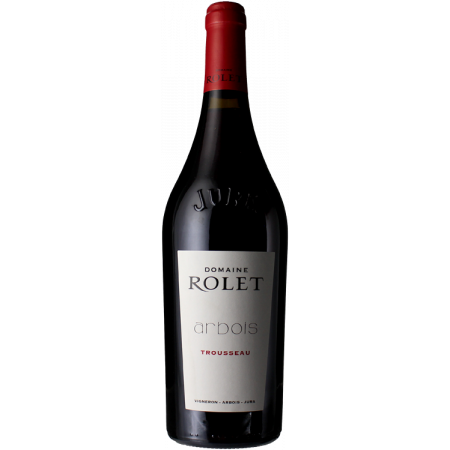 Domaine Rolet, Trousseau 2018
Sold out
$48.60 in mix 6+
$54.00 per bottle
The Wine
90/100 Wine Enthusiast : "In this ripe, juicy wine, fine tannins intermingled with fragrant red fruits still show along with acidity and structured fruitiness." Drink from 2021.
On first sip, the pleasure of this Trousseau is immediately evident, it's direct and permeates the entire palate! There is poise, freshness and purity, the tannins just melt in the mouth. It's sourced from hand harvested 40+ year old vines, with subtle scents of strawberries, raspberries and black cherries with a kiss of spice and earth. Great introduction to the Jura and Trousseau. YUM YUM Trousseau! TC
The Details
Variety - Trousseau
Country -  France
Region - Arbois, Jura
Extra - Cork
Year - 2018
Volume - 750ml
I would have thought 1942 would've been an interesting time to start a winemaking venture in Jura…but for Monsieur Desiré Rolet the timing was perfect! The vinous journey he started has morphed into an an institution. In 1958 his four children joined the Domaine, subsequently expanding their holdings through the purchase of old vineyards across Arbois and Cotes du Jura. Rolet grow Chardonnay, Savagnin, Poulsard, Trousseau and Pinot Noir.
The Domaine follows an organic path and uses ploughing extensively. Soils are quite varied and complex. The Domaine matches plantings to soils types - here the Trousseau is from the plot "en Levrin" that's located north of Montigny-les-Arsures. Here the vines grow in the gray marl soils of the Lias (marine limestones, shales, marls and clays). In 2018 Cedric Ducote took over the reins, and has since doubled down on their organic pursuits.
This is a great source of wine that faithfully represents the terroir and ethos of the Jura!