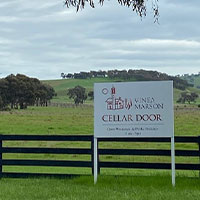 Vinea Marson - Heathcote Visit Highlight
VINEA MARSON: Established in 2000, Vinea Marson is the inspiration and culmination of the life efforts of Mario and Helen Marson. Mario is now the 5th generation Marson involved in winemaking, his heritage stretching back to Friuli-Venezia Giulia, Italy. His father, Giuseppe immigrated to Melbourne, where he planted rows of vines in his backyard - continuing his cultural heritage but on a more personal and practical level that no doubt eventually made an impression on the young Mario Marson.
Vinea Marson is located on the eastern facing slopes of the the Mount Camel Range in the Heathcote region of Central Victoria. The vineyard is spread over eight hectares and is primarily devoted to the production of red Italian varietals, that are well suited to the 500 million-plus year old red clay Cambrian soils of the area.
Prior to establishing the vineyard, Mario had been the winemaker at Mount Mary (Yarra Valley). He has also done Vintage at a variety of wineries in Barolo, Tuscany and Burgundy. The couple are now joined today by one of their three daughters Madeleine, as assistant winemaker.
Mario was drawn to Heathcote and in particular to the Vinea Marson site due to its unique characters. The locale/aspect provides the right amount of heat, and in a time measure that allows grapes a unique/long hang time without sugars blowing out. It is crucially important with Sangio & Neb that grape tannins are allowed to fully ripen, as well as providing conditions to allow the adequate development of acid degradation in the grapes - allowing other desirable characters to shine through. The eastern Camel aspect tends to produce distinctive red fruited wines, as opposed to the black characters found in the west and other parts of Heathcote. In short, site selection is so important and Vinea Mason sits on a very special aspect.
Below : Inspecting Nebbiolo with Mario. Camel Range ridge in the background.
Their white wine production also draws on Italian varietals but are grown further east, in the Victorian high country. Many years ago, Mario advised a colleague to plant a selection of white varietals, mainly of Italian origin on recently acquired land near Bright, and agreed to purchase all resulting production. This arrangement has continued. The climate and soils of the Bright area are much cooler and rockier than Heathcote and better suited to producing the subtle and complex characters in the whites that Mario was after.
All wines are purposely held back for release, something that is quite rare in todays wine market, but for Mario its a question of quality, and a desire to allow the customer to experience his wines at the best possible moment - although there is no doubt the reds and whites will develop further with cellar time. In relation to his whites, those familiar with the older vintages of Mount Mary Triolet will delight in Vinea Marson whites capacity to age!
Starting in 2021, wines are now made in their new winery, with gravity being a central theme. No doubt there are even greater achievements to come from the Marson Familia ! TC
 Prosecco 2021
This has been given 'Ferrari treatment'! Made in the Methode Champenoise (bottle fermented) as opposed to Charmant (oxygen injected in tank), it's the perfect way to start a 9am tasting at Vinea Marson!
Made with fruit from their partner grower on the banks of the Ovens River near Bright (Alpine Valleys, Vic), it's the first of their 2021 releases made in the new winery. Ever so faint green/straw in colour, it displays subtle scents of red and green apple intermingled with perfumed florals. In the mouth there is a cleansing green apple cut that refreshes, with a lemon twist on the finale - thanks to a small dash of Pinot Bianco as dosage. Perfect uncomplicated but compelling aperitif style. TC
Friulano #7 2017 
This is a wine inspired by the textural whites of Mario's Friulian heritage. Made from Friulano sourced from their partner grower in the Alpine Valleys, it's evident on pouring this is a 'Skin Contact' wine (7 days on skins during fermentation) with a distinctive orange hue. But the eyes deceive - on the nose this is a subtle scented wine giving off tantalizing and discrete marmalade characters (but no botrytize involved). And again in the mouth, the aromas are reflected but there is much more revealed. This is a dry, deep, complex and persistent wine. At the moment its sits high on the plate and displays an unexpected but pleasant freshness. Mario has made a conscious effort to pick the fruit on the earlier side of ripeness to retain natural acidity. The richness from the skin contact is perfectly offset by the digestible acidity - matrimoniale! This is a wine made primarily with food in mind but I also find it delicious on its own. Even with 5 years age on it now, it is so fresh and young - but will also grow delicious decadency in the cellar - with the natural acids maintaining a perfect crescendo for those with patience! Highly recommended. TC
Approx. 43% Pinot Bianco 27% Malvasia d'Istria 24% Friulano & 6% Picolit. Fermented with both wild and inoculated yeasts, 8 months on lees, then the varieties were blended, fined, filtered and bottled.
"Named in honour of Mario's mother 'Grazia, this is quite a wine, with the varietal blending inspired by Mario Marson's north east Italian heritage. Drinking quite fresh a the moment, it's extremely complex that makes you take another sip to understand its layers and depth. A wine that also screams to be matched with food. Mario shared with me his passion for blending, and how just a few little additions, here and there can make profound changes to a finished wine. The 'Grazia' already has 4 years age on it, but has a track record to age further. Arguably could be viewed as the Australian-Italian equivalent of Mount Mary's Triolet for a fraction of the price" TC
Sangiovese 2016 & 2017 
Firstly, understand when approaching Vinea Mason wines, Mario is not attempting to create some 'look alike' Australian version of a particular Italian regional wine. His work is a complete approach, fully reflecting the varietals' particular characters and potential. This approach started with the original selection of the vineyard site through to vineyard management and winemaking; it is a complete circle. In relation to the later, Mario draws on inspiration from his time with Paolo De Marchi, the longtime owner until recently of Chianti Classico Estate, Isola e Olena.
One of the guiding principles to handling Sangiovese (and Nebbiolo) is to attain a level of 'acid degradation' of the grapes. This can only be achieved by an understanding of the vine/grape management through to the maturation process. Importantly the site and locale of the Vinea Mason vineyard allows this to occur. The result is reflected in red wines with noticeable 'digestible acid' on the palate, that also allows associated earth characters to then emerge.
This wine is crafted through some thirteen different clones of Sangiovese from their Sotto and Sopra vineyards. It truly reflects Sangiovese and is a benchmark that others Australian Sangio's should look to.
Two Vintages are available. Both recommended with the 2017 a tad more approachable now. The 2016 good to go now with a decant but I'd pop a few away for later.
Nebbiolo 2015
Following on from my thoughts above on the Sangiovese, there is the same approach with the Neb and a mind boggling number of clones that add to the intrigue. Here Mario's inspiration is drawn from Barolo Icon, Domenico Clerico.

As Mario opens and pours the wine, I can see that it's Nebbiolo as it rolls around the glass - the brick orange rim giving it away - and somewhat reflective of the vineyard soil. The quintessential tar and roses on the nose that complement this supple, mellowed and highly drinkable wine. Fine ripe tannins gently grip my cheeks, providing a satisfying finish to this captivating wine. Mario kindly gifted me a bottle of the 2012 on leaving. Opened it last night, wow, wow, wow..! The 2015 is on the same trajectory. TC